Subjects Offered for Sept 2022 Entry
At Stratford School we have made the commitment to an A level (2 year) course in all subjects. This gives students time to thoroughly assimilate the information and skills they will need to be successful in their final exams; which prepares them well for their next step.
Students are asked to choose 3 subjects in Year 12 that they will continue for the two years. They are also encouraged to take an enrichment course to support their studies like the Extended Project Qualification that counts as half an A Level for University entry.
Our minimum entry requirement is five GCSEs at grade 4-9 including English and Maths (one non GCSE equivalent qualification will be considered if relevant).
If you have any questions regarding entry requirements or courses please contact the school office via tel: 01789 268051 or sixthform@stratfordschool.co.uk
Entry requirements can be found below, and the online application form can be access from the link below. PLEASE NOTE: The online form will go live Wednesday 17th November as applications are not open until then.
Subject Blocking
When choosing your three A level subjects you can choose one from each block. Some subjects appear in two blocks to enable a greater range of combinations. Further Maths A level can be chosen as a fourth subject. If you are unable to get your subjects choices, then speak to a member of the sixth form team or careers who will be able to advise you of alternative subjects.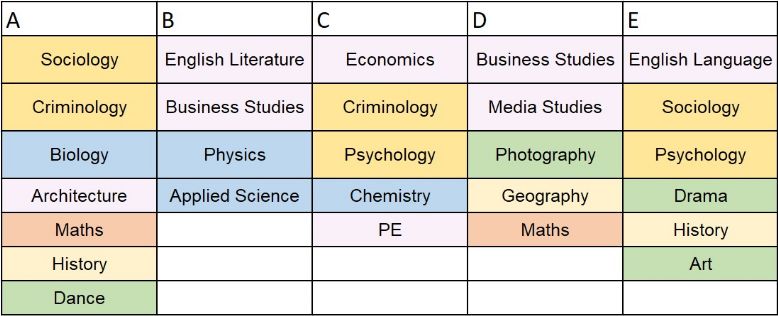 Individual Course Entry Requirements
| Level 3 Qualifications- A Level | Subject Entry Requirements (Level 2/GCSE) |
| --- | --- |
| Applied Science (Level 3 Extended Certificate) | Two grade 5s in GCSE Science |
| Architecture Level 3 Diploma (Design, Engineer, Construct) | Grade 5 in Mathematics and a grade 5 in a Science |
| Art (Fine Art - Drawing & Painting) | Grade 5 in Art and / or evidence of Portfolio |
| Biology | Grade 6,6 in Combined Science GCSE or if you have studied the Sciences separately, grade 6 in at least two, including Biology, plus a grade 5 in GCSE Mathematics |
| Business Studies | Grade 4 in Maths and English Language |
| Chemistry | Grade 6,6 in Combined Science GCSE or if you have studied the Sciences separately, grade 6 in at least two, including Chemistry, plus a grade 5 in GCSE Mathematics |
| Criminology (Level 3 Diploma) | Grade 4 in English Language |
| Dance | Grade 4 in English and Grade 4/Merit in Dance |
| Drama | Grade 5 in English and an enthusiasm for Drama |
| Economics | Grade 4 in Maths and English Language |
| English Language | Grade 5 in English Language |
| English Literature | Grade 5 in English Literature |
| Geography | Grade 5 in Geography |
| History | Grade 5 in History (If History GCSE not taken then English Lang Grade 6) |
| Maths | Grade 6 in Maths |
| Further Maths | Grade 7 in Maths |
| Media Studies | Grade 4 in English Language |
| PE (Physical Education) | Grade 5 in Sport / PE or grade 5 in Biology or grade 5,5 in Combined Science (students are expected to currently participate in a competitive sport |
| Physics | Grade 6,6 in Combined Science GCSE or if you have studied the Sciences separately, grade 6 in at least two, including Physics, plus a grade 5 in GCSE Mathematics |
| Psychology | Grade 6,5 in two Sciences and grade 4 in English Language |
| Photography | Grade 5 in Art or Photography and/or evidence of portfolio |
| Sociology | Grade 4 in English Language |
| Extended Project | As part of our enrichment programme |
| Level 2 Qualifications | |
| GCSE English Language (re-sit) | Subject to discussion with the school |
| GCSE Maths (re-sit) | Subject to discussion with the school |
Level 3 Qualification - A Level courses: