Student Support
In school, our staff are here to support you with whatever issues you may be facing, however, outside of school you may sometimes still want some extra support but might not know where to look. On this page we have gathered some great resources to help you with whatever challenges you may be facing. We hope you find some of them useful.
If you have a support resource you use already which you think other students would benefit from, please speak to Mrs Wilcox in F51 to get it added to this page.

Stratford Youth Clubs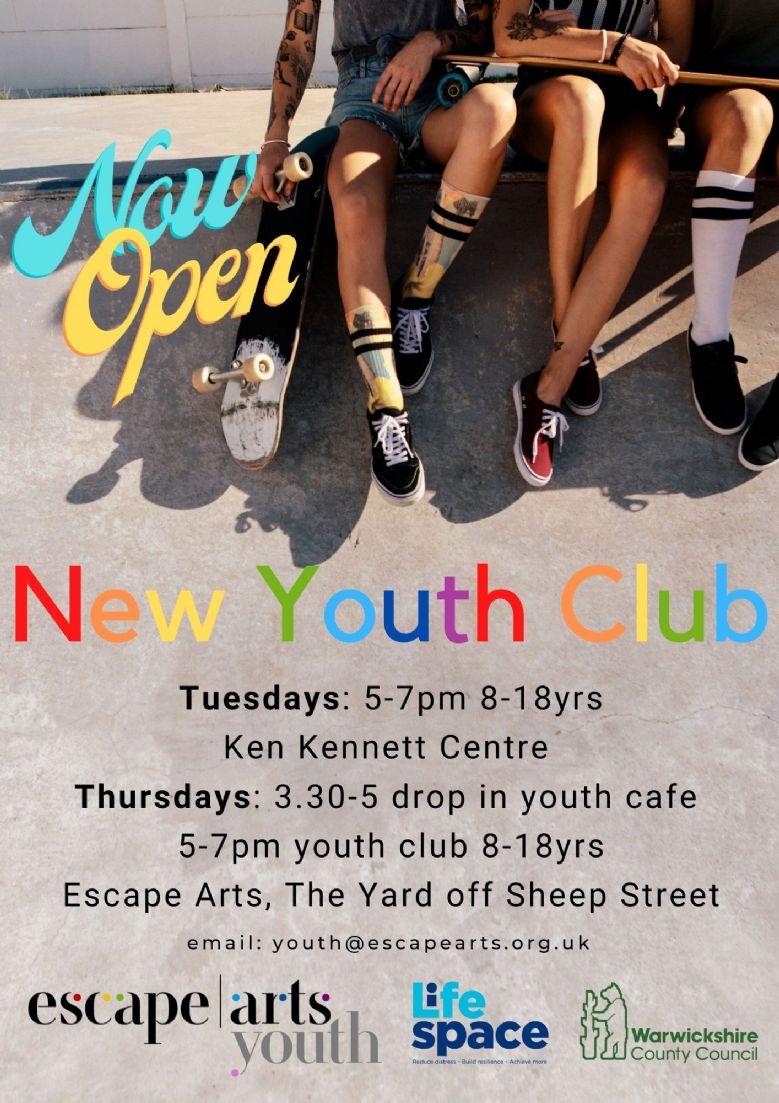 Kooth - FREE Mental Health and Wellbeing Community Online
Please note, Kooth is a website, not an app, therefore you will not find it in the app store.
Kooth is a safe and confidential way for young people to access emotional wellbeing and early intervention mental health support. The service is now available to all young people across Warwickshire aged 11-25 years.
Kooth.com is an award winning and innovative online mental health and wellbeing support service, accredited by the British Association for Counselling and Psychotherapy (BACP), which will support and complement the existing offer operated by Rise - a family of NHS-led services providing emotional wellbeing & mental health services for young people across the county. Rise already provide a well-established 24/7 telephone service providing crisis support to young people across Warwickshire. Kooth will deliver digital self-help resources and online counselling to further extend the local offer.
Fully trained and qualified counsellors and emotional wellbeing practitioners are available from midday to 10pm, and from 6pm to 10pm at weekends, 365 days a year to provide a much needed out-of-hours service for emotional support in an accessible way. Sessions can be booked in advance or they can drop in for one-to-one instant text-based chats.
The service also encourages peer to peer support via moderated discussion forums, and self-help through reading or submitting content. Children and young people have 24/7 access to magazines with wellbeing articles, personal experiences and tips from young people and the Kooth team, as well as giving members the opportunity to write in a daily journal to track feelings or emotions and promote a positive mental health and wellbeing.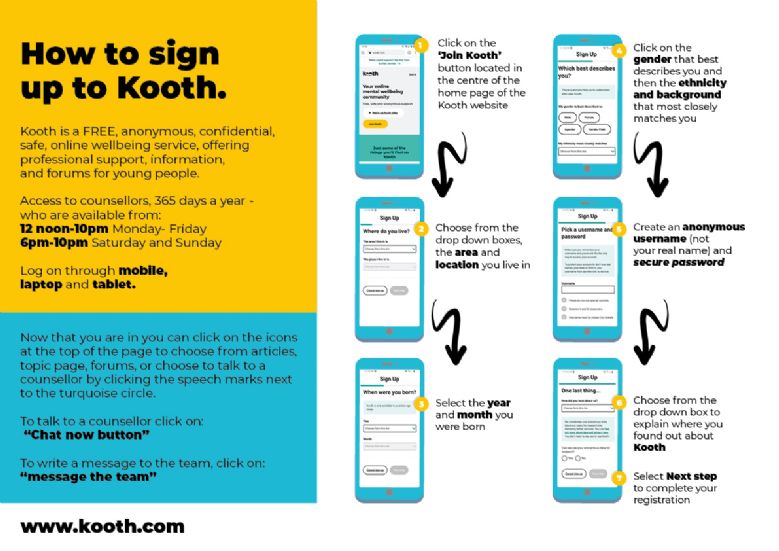 Young Minds - Website and Crisis Messenger
Young Minds is the UK's leading charity fighting for children and young people's mental health. The website contains a wealth of knowledge and resources for young people to access.

If you are a young person in need of support
Text the YoungMinds Crisis Messenger for free 24/7 support across the UK if you are experiencing a mental health crisis.
If you need urgent help text YM to 85258.
All texts are answered by trained volunteers, with support from experienced clinical supervisors.
Texts are free from EE, O2, Vodafone, 3, Virgin Mobile, BT Mobile, GiffGaff, Tesco Mobile and Telecom Plus
If you want to know more about how you're feeling, get information about a mental health condition or know what support is available to you, visit the Young Minds Find Help guides.
The Mix - Website with FREE helpline and counselling service
The Mix is the UK's leading support service for young people. They are here to help you take on any challenge you're facing - from mental health to money, from homelessness to finding a job, from break-ups to drugs. Talk to them via their online community, on social, through their free, confidential helpline or their counselling service.
Feeling Good - FREE app
What it can help with: low mood, stress, worry, anxiety, depression.
Age: There are two versions, a teen version for 12-15 years and once for 16+
What is it? An audio mind-body programme that takes you through a set of 12 relaxation and visualisation exercises. This aims to allow you to switch to a helpful state of mind and let go of the negative emotional triggers which underpin distress, whilst simultaneously increasing your positivity and focus. The techniques aim to build a resilient mindset of positive motivations, removing the blocks to positive internal vision, and enabling goal focused outcomes.
The app itself is FREE but there is an option to pay £10.99 to unlock the full access. There is a lot of content available on the free version so start with that and if you get on really well with the programme you can consider the full version at a later stage.
MeeToo - FREE Mental Help app
The MeeToo app allows you to talk anonymously about difficult things with other people of a similar age or experience. You can get help with your problems or use your experiences to help others. The app is a safe space where all posts and replies are checked before going live so there is no harassment, bullying or grooming.