What do I need to know?
Attendance Questions
What do I do if my child is sick and can't come to school? Call our Absence line tel 01789 209296 in the morning on every day of absence
When does school start in the mornings? The first lesson starts promptly at 8:50 and students are expected to be in school before 8:45. The current timings of the school day can be found here: School Day
General School Day Questions
Planners and Timetables: Students who have lost their planners come to the ASR to purchase a new planner and then must go to the admin office to request a new sticky timetable. Parents can view timetables on MCAS.
Uniform: An explanation of our uniform and suppliers can be viewed here; Uniform
Lost Property: General lost property is found opposite the ASR on the ground floor street. Valuables are handed in to the ASR office itself. Lost PE kit will be with the PE department in the Sports Centre (please mark all items with the student's name to allow for the easy return of lost items)
Vaccinations: Students parents and carers will received home advance information of any relevant vaccinations that are to take place during the school year. Once a date is agreed these vaccinations will appear in the website's school calendar.
Illness: Any student feeling ill during a school day should talk to their class teacher, they will then be assessed by first aid trained staff member. If the students needs to be sent home the ASR will contact parents/carers. Students must not call home themselves to ask to be collected. If a student is ill before school please call the usual attendance line 01789 209296 before 9am on each day of absence.
Medication: Essential medication is held in the ASR (inhalers & epipens). Students may carry 2 paracetamol with them if required.
Parentmail: Any parentmail issues should come through the main switchboard 01789 268051 to be directed to the relevant staff member. the parentmail site can be found here: Parentmail
Signing in and out: Parents/carers need to write a note in the student's planner informing ASR of any appointment that requires a student to leave during the school day. A paper slip is given to the student to show at reception to allow them to be let out of the main doors.
Coronavirus Questions
What do I do if a member of the household develops Covid 19 symptoms?.. view our Covid support pages for how to proceed.
How does a student work from home?...view our Homeworking information page
Student Access to Bromcom (VLE)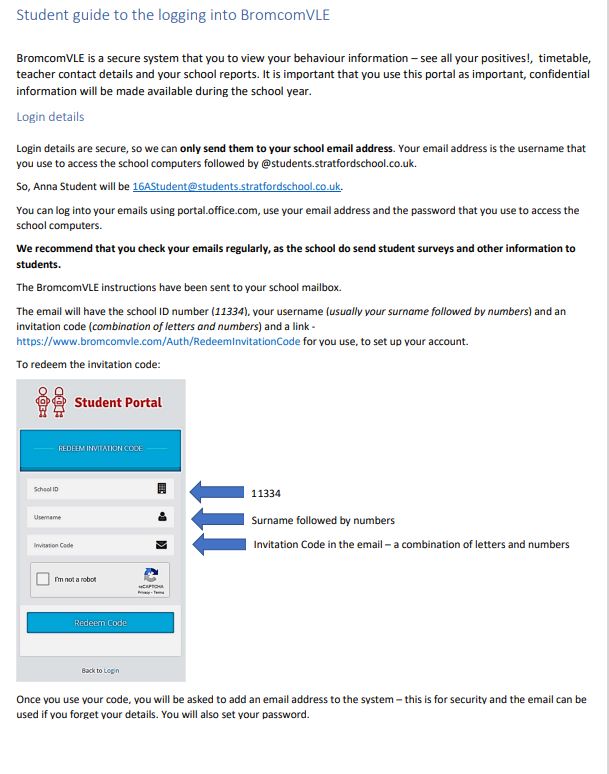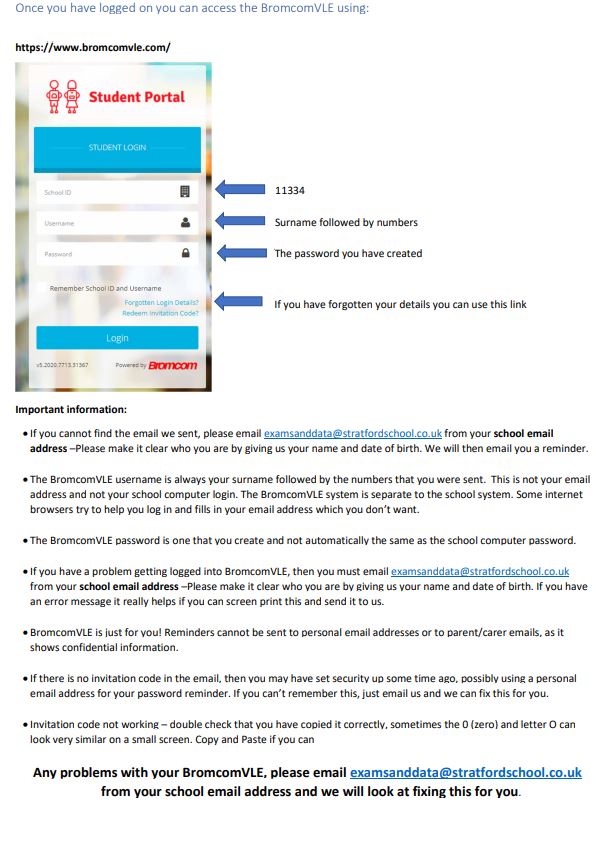 Clubs and Activities
There are numerous clubs and activities that run throughout the school term and many of these change during the year. For details go to our clubs page