Expectations
Within our Sixth Form we promote an adult and business-like working environment. This is factored on mutual respect and trust, and as such we are keen to offer students a degree of responsibility for their own learning. Nevertheless, we do recognise that this is a structured environment and therefore we have a number of expectations. These include:
A high level of student attendance and punctuality
Student attendance at both their Form group and weekly Sixth Form briefing
Business attire
We view our Sixth Formers as outstanding role models to our younger students and expect them to take an active role within their form groups and College.
Sixth Form Dress Code
Stratford-upon-Avon School is committed to safeguarding and, therefore, lanyards MUST be worn at all times.
Sixth Form clothing should be: 'Formal – school appropriate, professional, modest and practical.'
This would be exemplified by a trouser suit with a tie and a shirt tucked in, a skirt suit with business blouse or top or a formal dress and jacket.
Blazers and suit jackets do not have to be worn once in the classroom but must be worn at all other times.
Dress code appropriateness is at the discretion of Mrs McLeary and the Sixth Form Team.
The following items are not acceptable:
Sweatshirts
Hooded tops
Items of clothing with large logos
Skirts above mid-thigh (must be longer than fingertips when your hands are placed by your sides.)
Leggings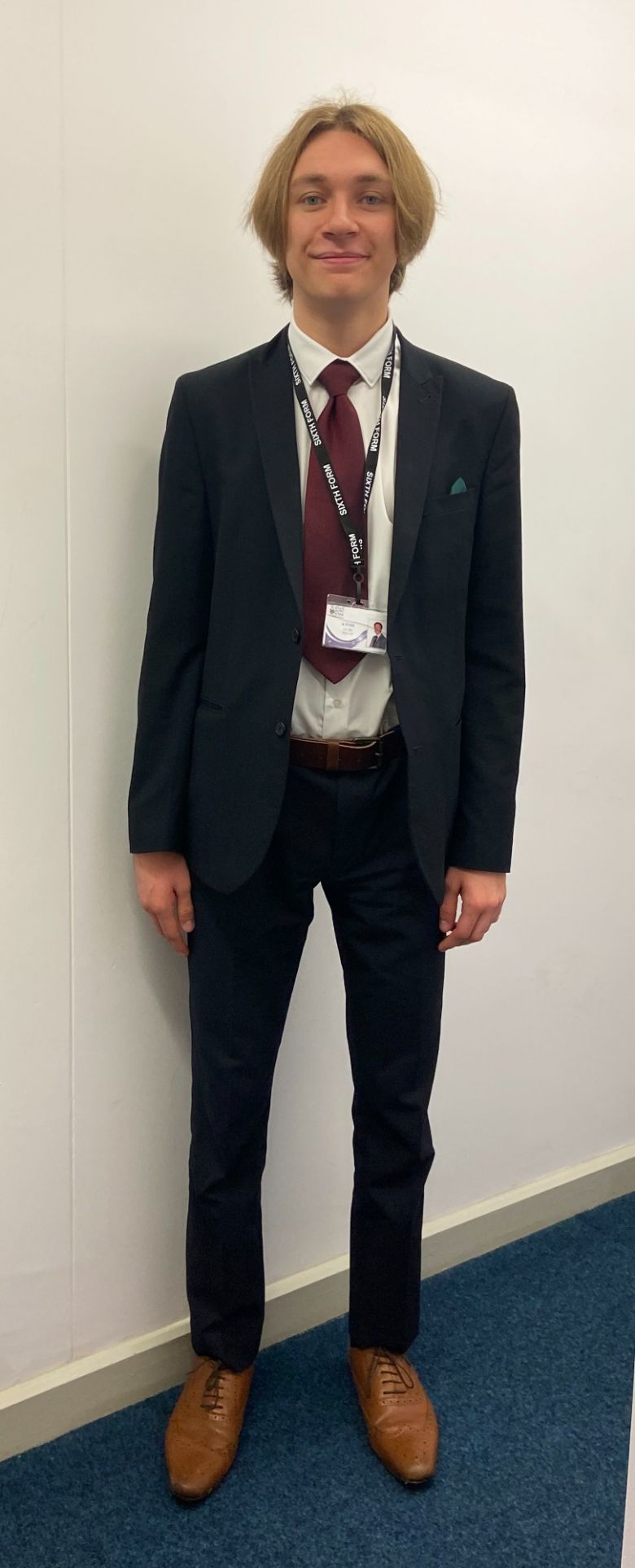 Shorts
Strappy or cropped tops
Doc Martin style boots
Visible face/body piercings

Jumpers or cardigans are not to be worn in place of a suit jacket/blazer but can be worn underneath.
Attendance / Absence
Absence Line - 01789 209 296
Within the Sixth Form, we are endeavouring to bridge the gap between child and adult, and as such we are keen to offer students a degree of responsibility for their own learning and behaviour. However, we do this in a structured environment, and as such, as well as the normal school expectations, we have some additional ones for our Sixth Form students.
These include:
Attendance at all registrations and assemblies
Attendance in school at all times during the day with the exception of any agreed periods of absence.
Details of exceptions can be obtained from the Sixth Form office. All absences, if not agreed prior to the date, should be reported on the 24-hour absence line 01789 209 296.
Non-notified absences will be recorded as unauthorised.
Information regarding student absence can be found here.