Congratulations to our A-Level Students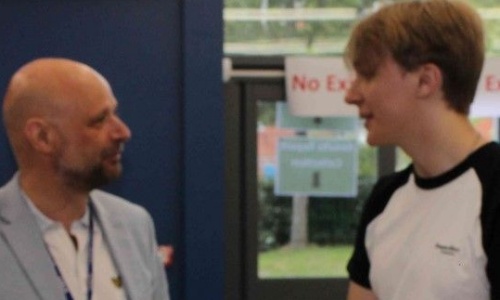 Stratford upon Avon School students have joined Year 13 pupils across the country as they found out their A-Level results. This year students could choose to either access their results online or come into school and receive them in person.
Reporting of the results had publicised the fact that there would be fewer top grades but despite this, staff are delighted with the results achieved by our students, "We are immensely proud of all the work and achievements of our students and wish them all the very best going forwards. Our staff have worked tirelessly to ensure so many of our students are able to progress onto further education and study", said Headteacher, Neil Wallace.
The overwhelming majority of young people have got the grades they need to progress to a range of exciting destinations. Some of our highest achieving students were:
Adam Fulleylove: A*, A*, A, A, going to study Aeronautical Engineering at the University of Bath
Oli Golding: A*, A, A, A + A in AS, going to study Mechanical Engineering at the University of Bristol
Mia Ellis-Brook: A*, A, A, going to read Bio-Medical Science at the University of Warwick
Lauren Hartnett: A, A, A, B, going to read Psychology at the University of Manchester
Alessia Lanzafarme: A, A, A, going to read Money, Banking & Finance at the University of Birmingham
Luke Brennan: A, A, B + A in AS, going to read Sport & Exercise Science at Lancaster University
Archie Flynn: A, A, C, A*, going to read Ancient History & Archaeology at the University of Southampton
Evie West A*, B, B, going to study Psychology at the University of Sheffield
Congratulations also to the following students whose grades showed they made the most progress from GCSE:
Mia Carless: A*, B, B
Oscar Albanese: A, A, B, going to study Financial Trading & Investment Management at Sheffield Hallam University
Eden Flanagan: B, B, C, going to study Economics at UWE Bristol
Amalia Popescu: A, B, C
We wish everyone the very best, whether they are now going to university, a higher-level apprenticeship, employment or taking a gap year.
* Image Archie Flynn, Student President, discussing his future plans with Headteacher Mr Wallace, having collected his results in-school.