Careers Fair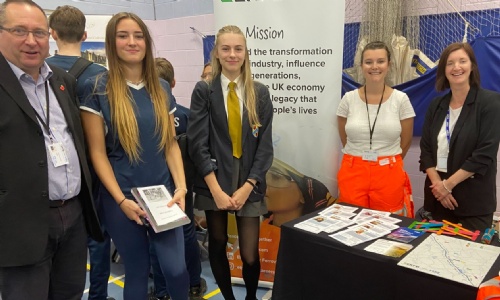 Stratford School's Biannual Careers Fair is a Huge Success
Stratford upon Avon School's Careers team recently organised their biannual Careers Fair for students at the school. Local and national companies, charities and further education organisations came to talk to students from Years 10 to 13 about career choices, education pathways and qualification requirements for different professional options. The students took full advantage of the opportunity leaving with extremely useful information and in many instances opportunities for the future.
Our exhibitors got a lot out of the experience too with them commenting that they "enjoyed attending the careers fair this morning. It was so well organised and the young people were a delight to talk to" and that it was "It was great to meet so many of your students". Companies even offered to continue working with the school to offer work experience to those students interested in their specific career path.
Sarah Miles, Stratford School's Careers Leader said "We are so grateful to all the companies and organisations that came to support our Careers Fair, they enable us to give our students such a breadth of careers experience in one event and this can help tremendously in shaping their future educational and career choice. Once again we thank everyone who support us and we look forward to running this again in Spring of 2024"
The companies that exhibited at the careers fair were; Balfour Beatty (whom we work with in conjunction with our Architecture GCSE and A level course), The British Army, Converging Solutions Limited, Daylesford Organic, Department for Work and Pensions, E.ON Energy UK, Eden Hotel Collection (The Arden Hotel, SUA), EKFB, Galanos house, Heart of England Mencap, Heart of England Training, Kenilworth Footcare, Learning and Development Partnership, MGTS (Midland Group Training Services), NFU Mutual, Penderels Trust, RICS, Royal Air Force, Royal Shakespeare Company, South Warwickshire Foundation Trust NHS, South Warwickshire NHS Foundation Trust, Stratford Manor Hotel, Tesco Stores Ltd, UK Sepsis Trust, Warwickshire County Council, Warwickshire GTA Limited, Warwickshire Police, Cardiff University, Coventry College, Coventry University, De Montfort University Leicester, Harper Adams University, Heart of Worcestershire College, Nottingham Trent University, Oxford Brookes University, SAE Institute, Stratford-upon-Avon College, The London School of Economics, The University of Sheffield, University of Birmingham, University of Lincoln, University of Northampton, University of Plymouth, University of Reading, University of Warwick, University of Worcester, Warwickshire College Group (WCG).