Natures Architect Podcast with Eco Club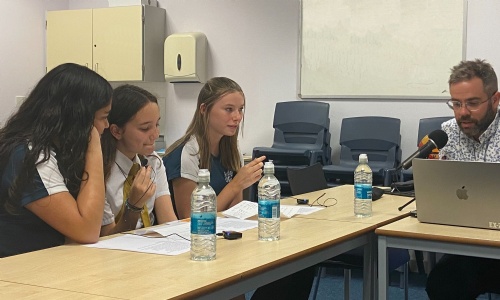 We welcomed Peter Wharton from the Nature's Architect Podcast to speak to the creators of the Eco Club, Year 10 girls Tess, Ellia and Constanca about the club itself and how important it is to educate the next generation on the significance of the environment on the world. The girls set up the group to educate and involve the school in making a positive change to the local community. They hope to make the town more aware of the impacts high volumes of traffic can have on the environment due to the levels of greenhouse gases being emitted. The students have visited the Town Hall to spread their voice and knowledge of how as a community, there is so much we can do. They suggested planting trees to reduce the greenhouse gases and protect the vital habitats for such a range of species, and to also provide a natural source of air conditioning into the town through the cover from the trees. With the countryside being so close, it is that much more important to keep the environment healthy and conserve the habitats it holds.
Our girls hope to be the voice of their generation and through young people educating other young people, there is much hope for the message to be positively received to bring about the change that is needed. In the podcast they spoke about how, through lockdown, more and more people appreciated the local green space available to escape to, where wildlife could be admired and respected. There was a greater realisation of the effects that travelling has on the environment when the option to travel was gone. The environment was cleaner and wildlife flourished with the reduced emissions of greenhouse gases and people to damage their habitats. They have frustrations from the negative impact on the environment causing rising sea levels without the money having been invested to create the necessary coastal defences and how the finite resources currently available in the world are going to waste.
The girls aim to take small but important steps to make small changes that can lead to a bigger impact on a wider scale. If they can make a generational change, there will be hope for the future to keep the environment sustainable and to conserve the planet. We were very grateful to have the Nature's Architect Podcast in school to inspire the club and appreciate all the work they have done and are planning to do in the near future. There will be an update when the podcast is live and available to listen to.
By Sophie Arrandale