GB Status for Stratford Volleyball Star!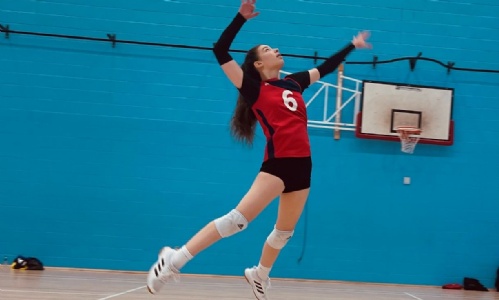 Stratford upon Avon school student and avid Volleyball player, Lavina Serban, was recently asked to attend the GB volleyball trials held in Dudley College. One hundred and eight Under 18 players had initially been contacted regarding the trials with eighty getting through to the event in Dudley. Lavinia was put through her paces alongside players from across the country and the standard of play was extremely high. Lavinia was made to demonstrate her individual skills of serving, passing, hitting, smart play, diving and receiving. She then played with others in competitive games so that her team working skills and competitive strategy could be assessed.
At the end of an intense day they announced that only eight players were being selected for the GB team and Lavinia was one of the chosen few! Lavinia said of the day "I was so honoured to have been asked to the trials and after seeing the standard of players there I didn't expect to get chosen, I just had immersed myself in the experience. When they called my name it was absolutely fantastic!"
Stratford School's Curriculum Leader of PE, Guy Wnuk, said "We are incredibly proud of Lavinia's achievement, she has worked so hard to get where she is in the sport. Lavinia is a fantastic role model to our students regularly volunteering to coach volleyball in lower school PE lessons and motivating her peers in sixth form to practice afterschool. I can't think of anyone who deserves this accolade more."
Lavinia will be playing with the GB team in the West Midlands Championship at the end of April and will be training with the other GB players until the season starts again in October.