Taking the Floor with Motionhouse Dance Company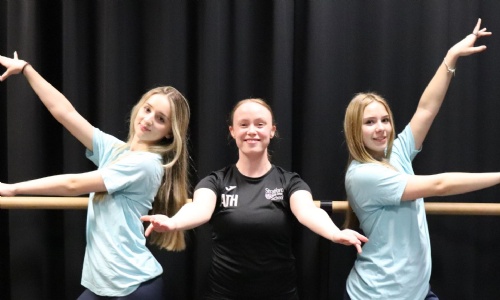 Two Stratford upon Avon School students Sophie Stickney and Rubi Russell got to take to the stage of the Birmingham Hippodrome with the Motionhouse Dance Company recently to perform the companies piece entitled 'Nobody'
Due to the determination of their Dance teacher Miss Adele Thomas to provide her students with as many dance opportunities as possible, the two girls had been selected from in-house auditions to be part of a six person group that attending the Motionhouse auditions in Birmingham. There were over fifty dancers auditioning from across the West Midlands and Sophie and Rubi were two of the final fifteen selected.
Sophie and Rubi danced on the main stage of the Birmingham Hippodrome with the company as they performed 'Nobody'. They said of the experience "It was a really good experience. We got to dance with people we had never met before and had to quickly learn the choreography and how to work as a team"
The opportunity came about as their teacher, Miss Adele Thomas, proactively reached out to the Hippodrome to see what opportunities could be available for her students. The two dancers go to attend full day rehearsals every weekend throughout January in order to be part of the creation and then performance of the piece. She explained "The Stratford upon Avon School dancers commanded the stage performing with confidence beyond their years whilst fully embodying the unique style of Motionhouse Dance Company"
Dance is taught at GCSE and Sixth Form level within the school and the school's dancers have successfully performed in many competitions and shows across the country and in France.